Welcome to our latest news updates. Check back to get updates. Here are a lot of upcoming summer events that you won't want to miss!
2013 NEWS
Oct 2013 -- Want to attend a unique event for a great cause? Check out the Songwriters at the Ranch event to benefit the Benedictine Sisters: on Sat Oct 19th www.songwritersattheranch.org. We'll be in Yorktown that day performing at the Yorktown Western Days, so check out helping out our friends with the Benedictine Sisters!
June 2013-- Lonesome Dove Fest announces that Cactus Country will open for GARY P NUNN on Sat Sept 21st in Karnes City for the annual Festival
June 2013 -- Cactus Country performs in Galveston at Moody Gardens for TCWA Mid-Year Conference
May 2013- Cactus Country to perform at SPURS PREGAME Playoff Game #2 Round 2 vs Golden State Warriors
April 2013 - Special Promotions Inc (Nashville, TN) announces that Cactus Country will be the backing band for all 3 TEXAS STATE FINALIST Competitions in 2013. Aug 16-- BILLY BOB'S TEXAS-- North Texas Finals
Sept 28 -- BURNET BBQ COOKOFF-- Central Texas Finals
Oct 13 -- Rockport Seafair -- South Texas
2013 SUMMER RODEOS with Cactus Country
Sun May 26 -- Utopia Ranch Rodeo- City Park Sat June 8 -- Lampasas Rodeo -- Park
Sat July 6 Crider's Rodeo- Hunt, Tx Sat Aug 10 Crider's Rodeo -Hunt,Tx
2013 Summer at Neal's Lodges in CONCAN, Tx on the Frio River with Cactus Country (Free at the Patio at Joe Jimmy's)
Fri May 31st Sat June 22 Thu July 4 Sat July 20 Sat Aug 3 Sunday Sept 1st (Labor Day weekend blast!)
We'll see you at the Frio! Near Garner State Park
June 23rd Crider's Rodeo in Hunt--- Huge crowd likes to dance!
Feb 25 Castrovlille 4H Scholarship Dance at Quihi-- Great Crowd!
Dec 31, 2011 NEW YEAR'S EVE at Quihi Gun Club-- Thanks to over 500 people who attended to Celebrate 2012!


Dec 25 2011 Over 650 people attend our annual XMAS Dance to benefit D'Hanis Booster Club at Quihi Gun Club
Nov 2011 Hunters Dance at 11th Street Cowboy bar - Our friends drove from Corpus Christi to attend!

Nov 2011 Party in the Pasture at Rio Cibolo Ranch- Fundraiser for Meals On Wheels

2011 Summer Event Pics below.
Cactus Country met & opened for the re-united RESTLESS HEART at 2010 Oyster Bake. This award winning country vocal group from the 1980's were great.
Cactus Country Opens for Tracy Lawrence at Bayfest in Corpus Christi, Tx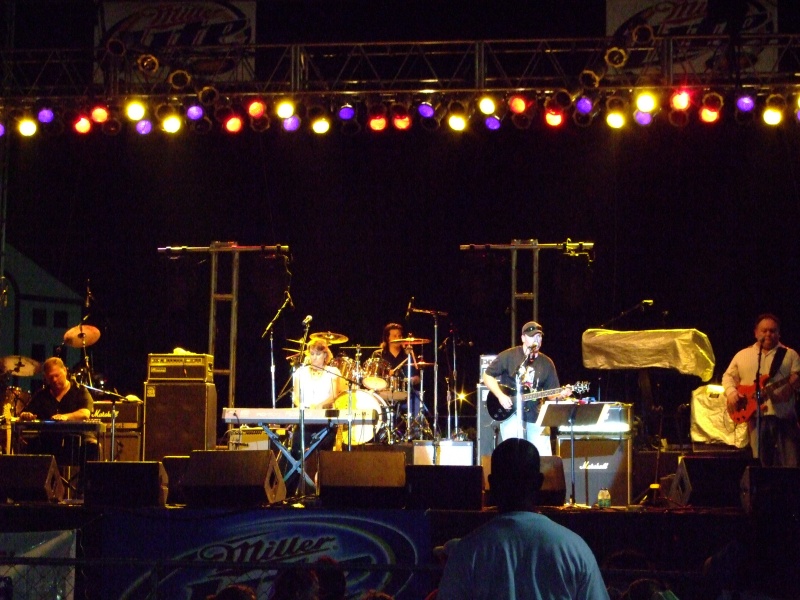 MORE PHOTOS FROM THE SPURS PARTY!
2009 Summer-Fall
2007-2008
Western Hall of Fame & 80's Nashville Star Rex Allen Jr. uses Cactus Country as his band when he performs in Texas. Here are pics from shows in Houston, 2007, & San Antonio 2008
Thanks to Western Hall of Fame artist Rex Allen Jr. who we performed with on the Roof of the St. Anthony Hotel for a Corporate Group in Jan, and it wasn't too cold. Great show, Rex!
RODEO 2007 - once again we did the most shows of any regional group at Rodeo! Sat Feb 10 was a record crowd at the Frontier Club. Check out the crowds including WOAI's Jennifer Broom partying there!

Summer 2007
Quihi Gun Club & Uvalde Lone Star Saloon
DEC 2006
HERE ARE SOME SUMMER 2006 Pictures...

And more shots......




The Tetco Christmas Carolers joined us for a few songs at their party held at Sonterra Country Club.

We opened for Tejano star Jay Perez at the San Antonio Police Officers Assn. Xmas party held at the Alzafar Shrine recently.

The Bluebonnet Ball in Kingsville was a fun night once again. See you again next year!

Here are the photos from our December 3 concert with Rex Allen, Jr.
This year the weather was perfect as we performed at Floresville's Peanut Festival Oct. 9:



Cactus Country was the backup band for contestants in the South Texas finals of the Colgate Country Music Showdown. The event was held at Six Flags Fiesta Texas Sept. 18. A big "THANK YOU" goes out to everyone who was so nice to us that day: Paul Cowan of Special Promotions, Inc. (producer of the show), Matt & company from LD Systems, Brandon & Joy at Fiesta Texas, and Megan Bishop & Lee Gruwell from Y-100 Radio. We had a great time!
We played at the Kendall County Fair in Boerne Sept. 4. Our thanks go to Suzanne for taking these pictures.
We performed at Quihi (the original little country dancehall) Aug. 14.
It was a fun night at Retama Park when we played there July 30. Thanks to Chelsey for taking these pictures.
Here are some photos from July 24 at Crider's:
We performed at Lackland AFB's Star-Spangled Spectacular on July 4. Thanks to our friends at Y-100 and Lackland AFB ! Some backstage photos are on the Backstage page.






Here are the photos from June 11 at Leon Springs Dancehall. Thanks, Chelsey!
Everyone had a great time at Leon Springs Dancehall May 1.
More photos from St. Luke's Fiesta Finale:






Photos from Hermann's Happiness:
Here are the photos from Leon Springs (Jan. 24).
We celebrated Christmas in D'Hanis again this year. According to official reports, it was one of their biggest crowds ever! Some even waited in line 45 minutes to get in! WOW! Thanks to all who came out!
We also performed for the TETCO Christmas party held at Sonterra Country Club. Jerry Turner and Dan Cook even got on stage to sing some holiday favorites!
We opened for Ruben Ramos at the San Antonio Police Officers Assn. Christmas party held at the Alzafar Shrine.

Saturday, Nov. 15, we performed for the Texas Twilight Gala to benefit the Cystic Fibrosis Foundation. The luau-themed event was held at the Verizon Amphitheater in Selma.
We performed for a Y-100 Supershow at SACU on Huebner Rd. November 8. Ralph, Chilton, & John got busted for telling too many lame jokes! (Actually, the officer was there for a children's ID program at the event.)

We celebrated Halloween at Roper's in Floresville. John wins our costume contest!
We played for a private party in Pearsall on Oct. 29. Here are some photos:
We played for the grand opening of Roper's in Floresville Sept. 19. The crowd was great and we're looking forward to being there again on Halloween. Here are some photos:
Thanks to all of you who came out to Leon Springs Dancehall Fri., July 25. You were a great crowd and we had a wonderful time! We'll be back there in October. Here are some pictures (taken by Chelsey Cure):
Another summer season has begun at Crider's Rodeo in Hunt. We'll be back there on Sat., Aug. 23. See you then! Here are some photos from June 28 and July 12:


We opened for singer/songwriter Radney Foster at the Lonestar Saloon in Uvalde on May 16. Radney is best known for his songs, "Just Call Me Lonesome" and "Nobody Wins." He also wrote Keith Urban's latest hit, "Rainin' on Sunday."
At little drizzle didn't stop us from having a great time at the 2nd Annual Calaveras Lake Boat Show on May 3. Cowboy Doug Whittaker was there to entertain the crowd with his trick roping. Thanks to Laura Ramos and everyone from Y-100 radio for another fine event.


We opened for Tejano star Jay Perez at St. Luke's Fiesta Finale Sunday, April 27. Thanks to Ernest and Anna Elizondo for all your support! Joel Elizondo did a great job playing drums on "Cowboy Rides Away." Thanks also to our photographer, Chelsey Cure!
Our JUKEBOX CD Release Party was held March 1 at Leon Springs Dancehall. Thanks to everyone who came out to celebrate! We really appreciate your support! Thanks to Katie Walla who sold CDs for us; to Jim Blair for videotaping the show; to everyone at Leon Springs; and of course, thanks to Wiley Alexander for all his enthusiastic support. The event for taped for airing on the Wiley Alexander Country Music Show on Time Warner Cable Channel 20. Stay tuned for the air date.